Learning Pod cleaning and disinfecting in NJ, Learning Pod Cleaning in NJ, Learning Pod in NJ, Dwell Time for Disinfectant in NJ, CDC cleaning
9/8/2020 (Permalink)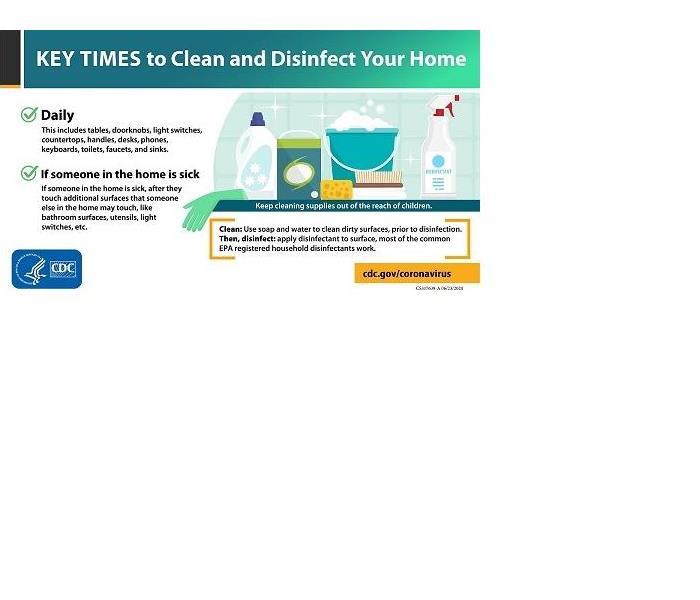 Learning Pod cleaning and disinfecting in NJ, Learning Pod Cleaning in NJ, Learning Pod in NJ, Dwell Time for Disinfectant in NJ, CDC cleaning
Learning Pod cleaning and disinfecting in NJ, Learning Pod Cleaning in NJ, Learning Pod in NJ, Dwell Time for Disinfectant in NJ, CDC cleaning standards
The CDC Guidelines are: Wearing gloves outside of these instances (for example, when using a shopping cart or using an ATM) will not necessarily protect you from getting COVID-19 and may still lead to the spread of germs. The best way to protect yourself from germs when running errands and after going out is to regularly wash your hands with soap and water for 20 seconds or use hand sanitizer with at least 60% alcohol.
Wear reusable or disposable gloves for routine cleaning and disinfection.
Clean surfaces using soap and water, then use disinfectant.
Cleaning with soap and water reduces number of germs, dirt and impurities on the surface. Disinfecting kills germs on surfaces.
Practice routine cleaning of frequently touched surfaces. High touch surfaces include:

Tables, doorknobs, light switches, countertops, handles, desks, phones, keyboards, toilets, faucets, sinks, etc.
Disinfect
Disinfect with a household disinfectant.
Follow the instructions on the label to ensure safe and effective use of the product safely and effectively.
Many products recommend:
In addition, check your HVAC system and HVAC air filter, to make sure they are Clean. Use a HEPA HVAC filter when changing.
Also, make sure your Vacuum has a HEPA filter as well, and is changed regularly, and disinfected as well.
As Veteran Owned and Operated, SERVPRO of Blackwood and Gloucester Township NJ, offers free estimates for Learning Pod Cleaning in NJ, Flood damage in NJ, Flood cleaning in NJ, Covid 19 Cleaning in Blackwood NJ, Water damage restoration in Blackwood NJ, Fire Damage in Blackwood NJ, Mold remediation in Blackwood NJ, Biohazard cleaning in Blackwood NJ, Crime Scene cleaning in Blackwood NJ
Phone: 8562277800
****Veteran Owned and Operated
Have Questions? Call Us Today – (856) 227-7800
Jon Barrett
Marketing Manager
SERVPRO of Blackwood/Gloucester Twp
Phone: (856) 227-7800
Email: sp.jonb@gmail.com
Website: https://www.SERVPROblackwoodgl...
****Veteran Owned and Operated