About SERVPRO of Blackwood / Gloucester Township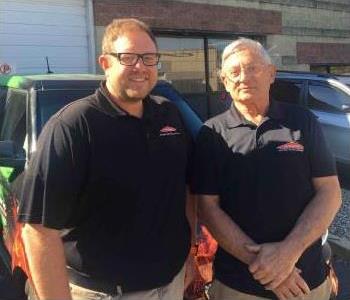 SERVPRO of Blackwood NJ, and Gloucester Township NJ, is a U.S. Navy Veteran Owned and Operated Small Business, or Veteran Owned Small Business, (V.O.S.B.), and understands that Water damage, Water damage Mitigation, Mold, Termite Damage, Wood Destroying Organisms, Fires, Floods, Sewage backups, Biohazards, Covid-19, Property Damage claims, or other disasters can strike suddenly and they can cause disruption to your life and home or business. We are Licensed, Bonded, Insured, and we also have Pollution Liability Insurance and Workman's Compensation, for your peace of mind. We also have Certified training, from the I.I.C.R.C., EPA, O.S.H.A., International Accreditors for Continuing Education and Training, (IACET), P.M.I.I., Chilworth Technologies, EMSL Laboratories, and A.B.R.A.
We are a Certified Mold Remediator, (C.M.R.), Certificate #CMR0000040754
We have a Certified New Jersey Biohazard Waste Generator License #0420266
We have a New Jersey Contractor License: HIC #13VH08892200
We are Registered as a Category 1 & 4 approved Veteran-Owned Business (VOB) that has met the criteria established by N.J.S.A. 52:32- 49 et seq. **Certification #A0157-58
We are an I.I.C.R.C Certified Firm, #205472
We are an EPA Lead Safe Certified Firm, #NAT-F158084-2
SERVPRO of Blackwood NJ Gloucester Township NJ, is also Completely registered with:
1) The System for Award Management (SAM) for the U.S. Government.
2) The Commercial and Government Entity (CAGE) Code, with the Federal Government.
***CAGE Code 8QK50 and DUNS 023257359
***Government Contractor

We are Grateful to work with Residential Customers, Commercial Customers, Insurance Companies, Industrial Hygienists, Environmental Consultants, Property Management Companies, Plumbers, HVAC contractors, Pest Control Companies, and other business opportunities, to Bid and Estimate on Federal, State, County, City, Industrial, Manufacturing, Commercial, and Residential Projects, throughout the entire United States of America.
Our SERVPRO of Blackwood NJ and Gloucester Township NJ, has 2 Veterans of Armed Forces.
Our Owner, Fred, is a 25 year Navy Veteran. Our Office Manager, Marie, is a 10 year Army Veteran.

We understand the Importance of our Armed Forces, Veterans, and Active Military.

We also provide All active duty Military members, Reserves, Retirees and Veterans of the United States Armed Forces, a 10% discount on All Services, when an active duty military address or copy of a DD Form 214 is shown.
SERVPRO of Blackwood NJ Gloucester Township NJ offers a fast response time for standard calls and a 24-hour emergency service for situations that require immediate attention. Our goal is to help minimize the interruption to your life and quickly make it "Like it never even happened." Our team is Here to Help and ready to respond in the Blackwood NJ and Gloucester Township NJ area.

Our staff is highly trained in property damage restoration. From initial and ongoing training at SERVPRO's corporate training facility to regular IICRC-industry certification, rest assured our staff is equipped with the knowledge to restore your property. With a nationwide system of qualified franchises, no damage is too large or too small for SERVPRO of Blackwood NJ and Gloucester Township NJ.

SERVPRO of Blackwood NJ and Gloucester Township NJ specializes in the cleanup and restoration of Residential and Commercial property after a fire, smoke or water damage. When you call SERVPRO of Blackwood/Gloucester Township your call will always be answered. We have a crew ready for emergency situations. SERVPRO of Blackwood NJ and Gloucester Township NJ can also mitigate Water, Mold, Termite Damage, from your home or business.

Serving you since 1967, SERVPRO is the cleaning and restoration brand you know and trust.
If you have an Emergency, or need Free Advice or need a Free Estimate or Free Inspection, then please call today!
Our Phone 856-227-7800


Insurance and Payment Information
For a stress free claims process, SERVPRO works with your insurance to help manage the insurance process and paperwork.
We also accept the following credit cards for your convenience:

Certifications
AMRT - Applied Microbial Remediation Technician
ASD - Applied Structural Drying Technician
CCT - Carpet Cleaning Technician
ECTP - Employee Certification Training Program
FSRT - Fire & Smoke Damage Restoration Technician
IICRC Certified Firm
RRRP - Lead-Based Paint Activities and Renovation
WRT - Water Damage Restoration Technician
Affiliations
American Bio-Recovery Association
American Society of Heating, Refrigerating and Air-Conditioning Engineers (ASHRAE)
Burlington Camden County Association of REALTORS
Camden County Regional Chamber of Commerce
Environmental Protection Agency - EPA Lead-Safe Certified Firm
Institute of Inspection, Cleaning and Restoration Certification - IICRC
National Fire Protection Association - NFPA
New Jersey American Industrial Hygiene Association
New Jersey Emergency Management Association (NJEMA)
Professional Mold Inspection Institute
State of New Jersey BioHazard Restoration
State of New Jersey Mold Remediation